The Sports Performance Center is available to host your birthday party, corporate event, reception, watch party, you name it!
SPC Birthday Parties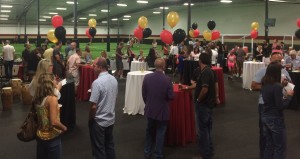 Birthday parties at the SPC can be anything you would like them to be! If we have the equipment it is yours to include in your party! We can do soccer, dodgeball, and non-specific fun and games of your choice. You can come in and do your own thing or you can hire a staff coach to run the party for you!
We have 2 simple packages but again we are open to anything you would like and do not have to stick to the package. Pricing may change if you are looking for something in addition to what we offer in each package.
Package 1 – $200 – 2 hour field rental – 2nd hour reserved picnic table area for food/celebration and open field play -Food/décor provided by customer
Package 2 – $250 – 2 hour field rental – 1st hour on field with staff coach planned party – Party type based on customer request – 2nd hour reserved picnic table area for food/celebration and open field play, no staff coach – Food provided by customer – Balloons in birthday boy/girl favorite color provided by the SPC
Please call our facility director Fields Brown for bookings at  919-880-7925 or email him at Fields.Brown@fcboulder.com.
For larger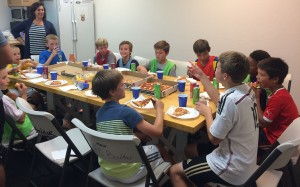 events, we can rent out the entire building (three fields, strength/conditioning area, board room) and accommodate viewing parties with our 15 foot projected screen for live game viewing, presentations, music or other entertainment. Our building can organize liquor licenses for special events, has a personal address system and full bathroom facilities. Our 2500 square feet banqueting area can host events for hundreds of people.
To make a reservation, email our facility director, Fields Brown, at fields.brown@fcboulder.com or call 919-880-7925  with any questions. Typical availability includes weekends all day and holidays throughout the year. Not your birthday? You can still rent fields for pick-up games, work social events or other functions. Email or call us to discuss!